Thunder (Doberman) arrived at the rescue extremely underweight and filled with so many anxious behaviors including separation anxiety. With the help of Treatibles, he has been able to relax in his own skin, feel more secure knowing he won't be left behind and has now been socializing with other fur buddies.
Zoey (Senior Boxer) arrived at All Those Left Behind with extreme separation anxiety and could not be left alone without showing extreme panic. With the help of Treatibles, she is getting better and it gives her some peace and comfort while she undergoes behavior modification. Treatibles is helping focus her energy on the more important things in her life, like her fascination with tennis balls. Zoey can now be left for short periods of time without a complete meltdown.
Charlie (Boxer) is going through adolescence. He was anxious when he was rescued, acting like a wild child, fearful of riding in cars or being crated. He was also quite hyper in an unhealthy way.  With the help of Treatibles, he has completely overcome his fear of entering a crate, will relax and chill on the couch, jumps right into the truck and actually gets to enjoy the scenery while riding in a vehicle rather than panicking and stressing out.
Niko (American Bulldog) suffers from many issues including Lyme disease, joint discomfort, a torn ACL, skin issues, allergies and anxiety. Treatibles has helped all of Niko's issues. He started on Treatibles to address his discomfort and it helped his whole body.
Mabel (Terrier/Basenji) is middle-aged and has some very special needs. She arrived with a boatload of issues. Everyone thought that she was deaf. She also had neurological, tummy and skin issues, was reactive with other animals and more. Treatibles, in conjunction with care from our holistic vet, has helped her in so many ways. Treatibles was the missing link in Mabel's recovery. It helps to support her digestive tract and she can now drink water without it coming back up. Overall, Mabel is feeling so much better and she's not reacting to the other animals like she used to. In fact, she is actually playing with them! She can now hear and responds to the staff most of the time. Mabel enjoys life like a normal dog would. She has even formed emotional connections with the staff and loves to cuddle. Her skin is much better, too!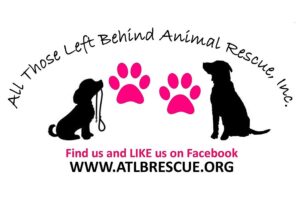 Treatibles has helped so many of our animals in so many ways – from managing discomfort, digestive distress, anxiety and separation anxiety to end of life comfort and care and a host of maladies. Once we found Treatibles, it opened up new roads to much more success with managing so many conditions that we were previously unable to. With the help of Treatibles and our holistic vet, a greater number of animals have achieved better quality and length of life. We will be furever grateful to Treatibles for their superior products and the amazing support they have provided. We are the rescue that takes in the "extra special" ones and without Treatibles I don't know what we would do without it. We can't say thank you enough! – Gina Bartucci, President and Founder of All Those Left Behind Animal Rescue
All Those Left Behind Animal Rescue, Inc.'s mission is to rescue animals abandoned by their humans and those housed at Animal Control shelters. They strive to prevent the euthanasia of any animal regardless of breed, age, or health concerns.
Established in 2012, All Those Left Behind Animal Rescue is a foster home based 501c3 not for profit animal rescue licensed by the State of Illinois Department of Agriculture.
In addition to being a rescue, the organization also provides a sanctuary for animals deemed unadoptable due to medical or behavioral concerns to live out the rest of their lives in a loving environment.
"We are so excited to share the amazing news that we are in the process of opening a 6,000 square-foot Sanctuary & Adoption Center, "shared Bartucci. "With this facility, we will be able to help so many more animals in need and gain better exposure for our mission of helping the extra special ones – all those left behind."
The organization has been gifted a 6,000 square foot modular building. Currently, they are working on securing donations that will cover the costs of concrete foundation, utilities, building materials, etc.
"The new facility will allow us to cage less and offer dogs their own rooms with couches and televisions. The dogs will have constant socialization as well as fenced yards for running and playing. There will be two people living on site, so they will not be alone through the night," said Bartucci.
The nine-acre property, located in Morris, Illinois, will also feature a nature trail and pond.
Donations of any size large or small are always so very greatly appreciated. Donations can be made via www.atlbrescue.org.