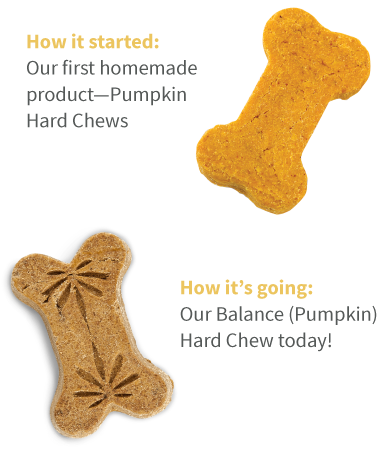 In 2013 Treatibles made a grand entrance, blazing a trail as the pioneer in creating CBD products for pets.
Our story began in 2008 when Julianna Carella, our Founder and CEO, established Auntie Dolores, one of the first five medical cannabis brands in California. She began creating a variety of edible products that offered much needed relief to so many people suffering from a variety of maladies.
Eventually, clients began to ask if they could give Auntie Dolores products to their ailing pets. Thus, Treatibles was born!
harmony for the whole family®
Treatibles may have begun as the right paw of Auntie Dolores, but today we are one of the most highly respected companies in the pet industry. We will continue to evolve, innovate and introduce new products for your pets.
After all, happy pets make happy humans. That's why we always strive to provide Harmony for the whole family®.
Compassion Certified® on every package
The "Compassion Certified" seal is our commitment to you and your pets that we have the best intentions at ♡ .
The word "compassion" is significant to those of us in the hemp and cannabis world who have fought so hard to provide relief for pets and people. In 1996 the Compassionate Use Act, a.k.a.,Proposition 215, was the very first medical cannabis law on the books.
Compassion is more than a word for the Treatibles team it is the foundation and inspiration for all that we do. It is the reason for our existence. We continue to be guided by the principals that have always been the mission of the movement: to eliminate the stigma of hemp and cannabis in order to provide compassionate relief to our pets, friends and family members.