A Vizsla/Hound MIX
Once a feral puppy, he has now become well adjusted. Whenever he gets stressed out, he is given a Treatibles and returns to enjoying life.
2 years old
UTD on vaccinations
Neutered
Heartworm Survivor! (Now Negative!)
1 ½ years old
UTD on Vaccinations
Neutered
Great with Kids & Dogs!
Falcor was found wandering the streets in South Georgia. We do not know what he has been through, nor do we know what he has seen. He has been an extreme case study in treatment. Falcor is 10+ years old. When Airsong's received the call…we came running! Emaciated, dehydrated and unfortunately Heartworm positive, this boy has had it tough! Falcor has extremely crate fears, extreme separation anxiety and is storm phobic. Treatibles have not only helped him regain his appetite – now he is at a healthy weight for his heartworm treatment – but also important, they have helped with ALL of his fear/anxiety/separation issues. Falcor is given a Treatibles chew every 4 hours during the day to help him.
Asked by a shelter partner to take in pregnant Petal, Airsong's Angels immediately took x-rays to see how far along she was and how many puppies to expect. Turns out, a week later a cesarean was performed, bringing five large and healthy pups into the world. Petal is a 15-pound purebred Rat Terrier. Daddy was a Large size "Traveling Salesman." By taking Petal in during her time of need and being extremely vigilant of her size, Airsong's Angeles more than likely saved not only her life, but the lives of her puppies, as well.
Fonzi
Ritchie
Potsie
Chachi
Joanie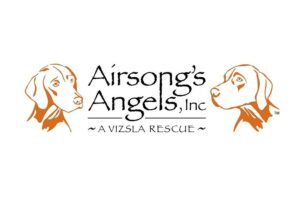 "Airsong's has had great success with providing Treatibles products to our rescues. We are extremely grateful to be able to use such a PAWSOME product to help relieve any and all stressful situations for the animals in our care!" – Kat Harrington, Founder, Airsong's Angels
Founded in 1986 by Kat Harrington, Airsong's Angels, Inc. is an all-volunteer, 501(c)3 nonprofit organization and Georgia State Licensed Animal Rescue dedicated to improving the lives of vizslas in their care. While vizslas are their focus, they do rescue any and all breeds that are strays, abandoned pets, or owner surrenders.  Airsong's Angels attends to each dog's medical and behavioral needs (including vaccinations and spay/neuter) and works carefully to rehome them into loving, furever families.
One of the extraordinary aspects of this rescue is their understanding of how dogs process grief and change.
"Every animal that comes into a shelter or rescue is stressed out," shared Harrington. "Our contracts specifically state that an animal needs a minimum of 30-60 days to "decompress" before their real personality comes out. Some dogs are with us short-term, some long-term. Addressing their anxiety issues is a priority."
Airsong's exclusively uses Treatibles products to help dogs remain calm. This helps them be more open to experiencing the love they receive at the rescue, which is key in helping them trust again (or maybe for the first time).
In addition to finding furever homes for young and middle-aged dogs, Airsong's Angels also helps seniors through their S.O.S. (save our seniors) program. Airsong's Angel's routinely takes in senior vizslas as permanent fosters. Senior pups are surrendered for a number of reasons, including having their human pass away or because their family is not able to care for their senior needs.
"Often the seniors in our care require extensive medical diagnostics, medication, doggy diapers, orthopedic dog beds and other treatments to keep them healthy and comfortable," stated Harrington.
Please consider supporting this amazing rescue, adopting a dog in their care, or sponsoring one of their senior dogs. To learn more, visit the Support Our Seniors page on AirsongAngelsinc.org.