Oil Droppers for People—
1500 mg CBD
Auntie Dolores has been hard at work, creating the purest, most beneficial full spectrum hemp oil with naturally occurring CBD for our customers. Learn more about our proprietary oil and unique cryogenic extraction method.
Benefits of full spectrum hemp oil with naturally occurring CBD include:
+ Helping instill calm and addresses anxiety
+ Supporting a healthy digestive tract and strong immune system
+ Promoting healthy joints and flexibility
+ Maintaining a normal inflammatory response
Our Organic Full Spectrum Hemp Oil is non-psychoactive and non-toxic.
Auntie Dolores high potency 1500 mg oil dropper bottle includes a base of antioxidant rich organic MCT Coconut Oil. We've also added cinnamon oil for a taste that is out of this world.
$90.00 — or subscribe and save up to 30%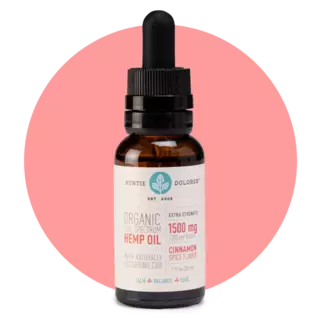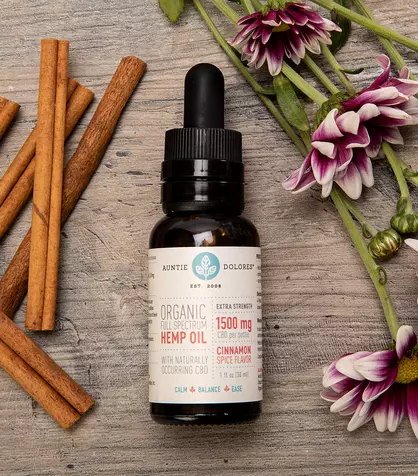 + Adults take 1.0 ml (50 mg of CBD) every 4 – 8 hours as needed
+ Begin with 1.0 ml and adjust amount as needed with a maximum of 3.0 ml (150 mg of CBD) every 4 – 8 hours
Everyone has an endocannabinoid system (see Lab Results), however we aren't all the same. Cannabinoid receptor sensitivity can vary from person to person. If you feel your sensitivity level to CBD is strong, begin with a lower dose. Some people respond to dosages as low as 10 mg, while others need upwards of 100 mg.
Auntie Dolores oil will stay fresh for up to 2 years when tightly sealed and stored in a cool, dry place.
all of our products provide
Helps maintain normal emotional balance and promotes relaxation.
Supports digestive tract health and assists the immune system.
Enhances function of joints and connective tissue.
Is it hard for your pet to get up?
Is your pet anxious?
Does your dog chase their tail all day?
Is your pet's skin irritated?
Is your pet nervous?
Do you have a senior pet?
Do thunderstorms freak out your pet?
Does your pet lick, lick and lick?
Do you have a puppy?
If you answer yes to any of these questions, there's a treatibles® for that.