"Everyone is sleeping better, playing, and during thunderstorms they are much more relaxed."
As a puppy Salty, my Presa Canario was found severely abused and mutilated.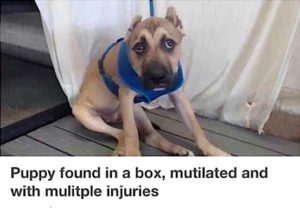 She has had a Left femoral head osteotomy, and a Right tibial-plateau-leveling osteotomy by the age of 4. I had tried the pharmaceuticals for her severed discomfort and they made my non aggressive dog aggressive. Then I learned about full spectrum hemp chews and oils. I have been an RN for 25 years, I am no stranger to listening and keeping an open mind. I did my research. I questioned Jen at Treatibles, read the reviews and tried them myself, for discomfort control and anxiety.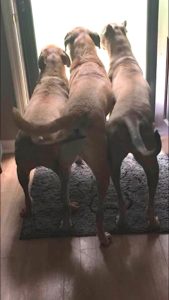 This is What happens at the my house when they find out Treatibles chews are being delivered!
My home is back in Harmony. Everyone is sleeping better, playing, and during thunderstorms they are much more relaxed. It's hard to find tranquility with an English Mastiff, Pit Bull, and a Presa Canario, but I think we are getting pretty close to it. Thank you, Treatibles chews, the dogs think you are super yummy. – Kelly R., Orlando, Florida