Ophelia is a 10-year-old shepherd mix who was red listed at a shelter. She is very shy and has a bit of anxiety when a lot of activity is going on around her. Ophelia is very quiet and has the sweetest disposition. She has some joint discomfort, which is to be expected at her age.  Ophelia takes Treatibles liquid daily for her mobility and anxiety. She has become fast friends with Charlie.  Charlie is a 10-year-old shepherd with a big personality. He came to Woofy Acres in horrible health from the shelter where he was red listed. He had severe pancreatitis, requiring hospitalization for three days. Once back at Woofy Acres, he became a brand new dog! He now acts like a much younger dog, loves to howl and let you know he is around. He is very sweet. Charlie takes Treatibles oil daily for overall wellness.
5-year-old pit bull rescued from a shelter.
He arrived at Woofy Acres very nervous with a lot of anxiety. He was started on Treatibles immediately and he has calmed down a bit. Zippy is very affectionate and loves to roam around the yard and play ball.
4-year-old pit bull mix that acts like a big puppy.
He is very affectionate and loves to give kisses.  AJ has loads of energy and loves to play with his partner at the rescue, Smokey.
6-year-old Papillion.
She is very particular and likes her own space, but is also very affectionate.  If Luna had her way, would be an only dog.  She has some weakness in her hind legs so she takes Treatibles for its overall health benefits.
10-year-old Chihuahua who is very playful.
A family originally rescued Snoopy from a shelter. Unfortunately, they did not protect him and another dog attacked him. He was returned to the shelter after the attack and ended up losing one of his eyes. Snoopy was an exception for Woofy Acres as he was not red listed, but rather in need of a home to recover from his trauma. He has the sweetest disposition and has never exhibited any behavioral issues from his traumatic attack.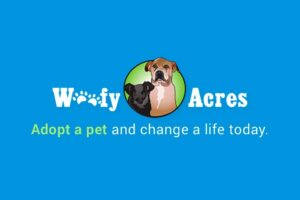 "Treatibles has been instrumental in reducing anxiety in our rescues. The products have also been a godsend for our senior rescues who suffer from mobility issues" – Dianne Bedford, Owner, Woofy Acres.
Woofy Acres is a Rescue Shelter in the San Fernando Valley area of Southern California dedicated to helping dogs in need with a safe place to stay while they wait for their perfect family.
Since 2016 this amazing 501(c)(3) rescue has provided a loving haven for dogs that have lived in shelters for an extended period and/or are scheduled to be euthanized.
"Our mission at Woofy Acres is to help reduce the suffering of shelter dogs and eliminate the risk of being euthanized by rescuing our furry friends and providing them a temporary home while awaiting a loving adoptive forever home," said Dianne. "For dogs that are not adoptable either due to medical or behavioral problems, we provide a long-term loving home."
After learning about the benefits of hemp-derived CBD products for pets, the folks at Woofy Acres researched many brands and chose Treatibles for not only the quality and consistency but also for the variety and palatability of the line of products. The rescue has been providing the chews and oil dropper bottles to the rescue dogs in their care for a year and a half.
"Dogs in shelter care are extremely anxious and act out in different ways," shared Dianne. This can include anxiety-induced aggressive behavior, moderate anxiety or even jumping in the kennel and hurting themselves. Treatibles has made a huge difference to our dogs. We find that with regular use, the dogs appear to walk better, have more ability to be active because they are not as uncomfortable, and appear mellower and more sociable," she added.
Photos of dogs currently available for adoption at Woofy Acres are pictured above. To learn more about the adoption process, visit How To Adopt. To support the efforts of Woofy Acres, please consider donating here.