Topical Cream for People— 240 mg CBD
Auntie Dolores naturally scented Topical Cream is formulated with penetrating ingredients for maximum transdermal absorption and is ideal for managing joint inflammation, burns, scratches and other minor skin conditions.
When the Topical Cream is absorbed into the skin, the endocannabinoid system can utilize the Organic Full Spectrum Hemp Oil to help regulate the neurological, immunological and physiological functions of the body.
This can create calm, balance and ease and provide support for relaxing, repairing or restoring.
The proprietary blend of ingredients features our Organic Full Spectrum Hemp Oil. Learn more about our proprietary oil and unique cryogenic extraction method.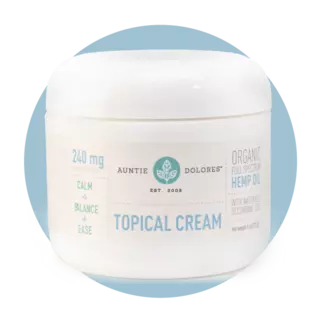 each container contains 240 mg CBD
+ Place a small amount of cream on affected area and gently rub until absorbed
Everyone has an endocannabinoid system (see Lab Results), however we aren't all the same. Cannabinoid receptor sensitivity can vary from person to person. If you feel your sensitivity level to CBD is strong, begin with a lower dose. Some people respond to dosages as low as 10 mg, while others need upwards of 100 mg.
Auntie Dolores Topical Cream will stay fresh for up to 2 years when tightly sealed and stored in a cool, dry place.
all of our products provide
Helps maintain normal emotional balance and promotes relaxation.
Supports digestive tract health and assists the immune system.
Enhances function of joints and connective tissue.
Is it hard for your pet to get up?
Is your pet anxious?
Does your dog chase their tail all day?
Is your pet's skin irritated?
Is your pet nervous?
Do you have a senior pet?
Do thunderstorms freak out your pet?
Does your pet lick, lick and lick?
Do you have a puppy?
If you answer yes to any of these questions, there's a treatibles® for that.